Advice on Cleaning Hardwood Flooring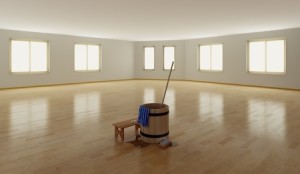 There are numerous how-to articles about how to clean your hardwood flooring. Before you try to clean wood flooring by yourself, you need to know what supplies should be used, how often it requires cleaning, and what the worst enemies of this flooring material are. Every homeowner can use this list to maintain his or her hardwood.
The Best Way to Get Sparkling Hardwood
• Vacuum Regularly – Vacuum once or twice a week to clean the dirt and sand off the floor. Do this often, and use a soft brush attachment on your vacuum cleaner to minimize scratching.
• Get Rid Of Wet Spills ASAP – Water is hardwood's worst enemy. Take care of spills quickly with a soft towel or dry mop, and then clean thoroughly with white vinegar or an all-natural product.
• Clean Underneath Carpets – Carpets are notorious for trapping dirt and sand. Clean underneath carpet spaces at least once a month, or as often as needed.
• Do not Drag Furniture or Appliances across the Floor – Try your best to avoid dragging heavy objects and appliances across the floor. They create nasty marks. Use furniture pads to avoid these damages.
• Do Periodic Buffing And Waxing – Some hardwood floors require periodic buffing and waxing. Get a professional opinion on what you may need to do and how to do it.
• Follow Manufacturer Recommendations – It does not get any easier than this! Follow the manufacturer's directions to preserve the quality of your floors.
• Using Furniture Pads to Avoid Dents – Furniture pads are available at local hardware stores. Use them under all furniture. They lower pressure on the floor and are highly recommended for heavier items.
• Lay Carpets on High Traffic Areas – Using rugs and soft carpets in high traffic areas of your house will reduce damaging the paint job of the wood flooring and scratches.
• Use Exterior Mats – Exterior mats reduce the amount of dirt and sand entering your house stuck in shoe soles. Make sure guests wipe their feet before coming inside.
• Protect Hardwood Flooring From Direct Sunlight – To prevent discoloration of your wood flooring, try your best to prevent sunlight from directly hitting the surface. UV rays are destructive, and can cause severe fading over time.
Vista Building Maintenance uses only the best hardwood floor cleaning products. From dirt to stains, we have what it takes to make yours shine again!